I'm not asked to pattern test that often, but I have happily done so for a couple of my indie designer buddies. Two recent patterns which I tested have just been released – the True Bias Southport dress and the Tilly Arielle skirt – so I thought I'd share my takes on the results. I find pattern testing a really interesting process, which is why I'm happy to give my time to do it. Firstly it often lets me try out patterns that I wouldn't necessarily choose or buy for myself, and secondly I'm quite interested in the whole process of pattern development and how best to optimise instructions for maximum usability. I love submitting my feedback and seeing it applied to the final product.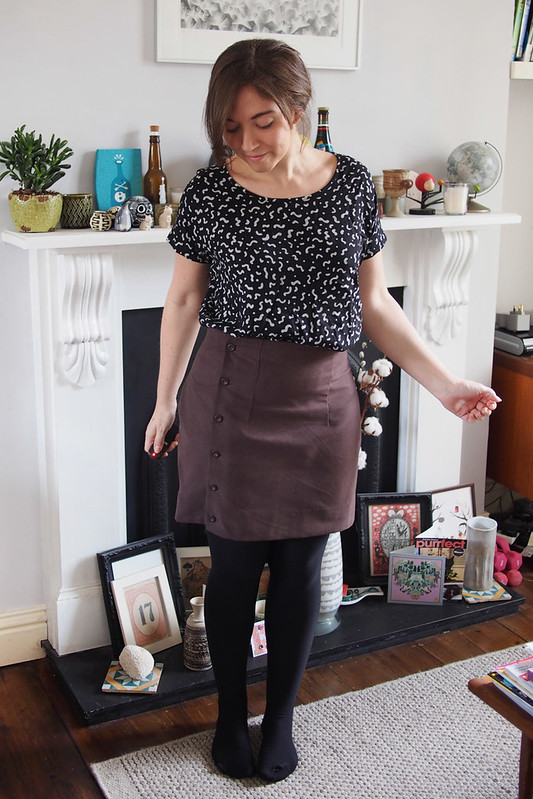 First up Tilly's Arielle skirt, which comes in mini or knee lengths and offers a wiggle fit with lovely offset buttons – no zip, hoorah!
I used a brown twill for my skirt and it's lined in black silk. Slight changes were made to the hip ease due to the testing feedback, but I actually graded up at the hip anyway because I'm between sizes – it's an easy one to blend sizes and get a good fit. Pencil skirts aren't a typical choice for me, but I'm pretty fond of this and it's so easy to wear with tights and a little tee and feel a bit dressed up.
I really enjoyed testing this because it was quite a challenging sew for me – I think it's the first faced-and-lined skirt I've ever put together so I really relished trying a new skill. For an easier sew the lining is totally optional and wouldn't really be necessary in many fabrics.
Next up – I'm a big fan of Kelli of True Bias's pattern line, so was really pleased to be asked to test her latest. The Southport is a casual summer tank dress with a half-buttoned front (YASSS, sew all the buttons) and drawstring waist. It's got above-knee and maxi length options and is recommended for any breezy, drapey fabric. I used a fairly nutty archive Liberty print called Clara – Roisin has used it in another colourway and I scooped this 1.3m piece on eBay for pretty cheap.
Welp, this dress is pretty adorable, right? I love the overall shape and style. Tank dresses are super hard to fit on my body due to my narrow shoulders and hollow chest, but this is pretty darn close. I graded from 4 at the top to 8 at the hips, and Kelli has altered the armsyce/bodice fit a bit based on feedback (so don't use this as a final fit guide). If we get more of a sniff of summer weather or I book a nice warm holiday I'll definitely be making a couple more of these.
You can get hold of Arielle here and Southport here. Obvious disclaimer than I sewed up test versions so my review doesn't apply to the finished fit or instructions, and I got the patterns for free in exchange for testing. Will you be adding either to your S/S sew plans?